The Hearing & Dizziness Clinic is a Dr. Cliff AUD Approved Provider
We are proud to be a Dr. Cliff Approved Provider providing top quality audiological care to our patients. The providers in the Dr. Cliff AuD Approved Provider Network have committed to following the Dr. Cliff AuD Best Practice Checklists as well as several additional criteria to ensure the best interests of individuals with hearing loss are being taken into account.
What does it mean to be an approved provider.
Being a "Dr. Cliff AUD Approved Provider" means that we are a hearing care provider who follows the Best Practice Guidelines for the Audiologic Management of Hearing Impairment. Also, that we are a hearing care provider who is willing to act as a fiduciary requiring us to only act in our patient's best interest.
Entry into the Network requires completion of a series of criteria and an interview with Dr. Cliff Olson that ensures that we only provide the highest level of patient care possible.
Who is Dr. Cliff?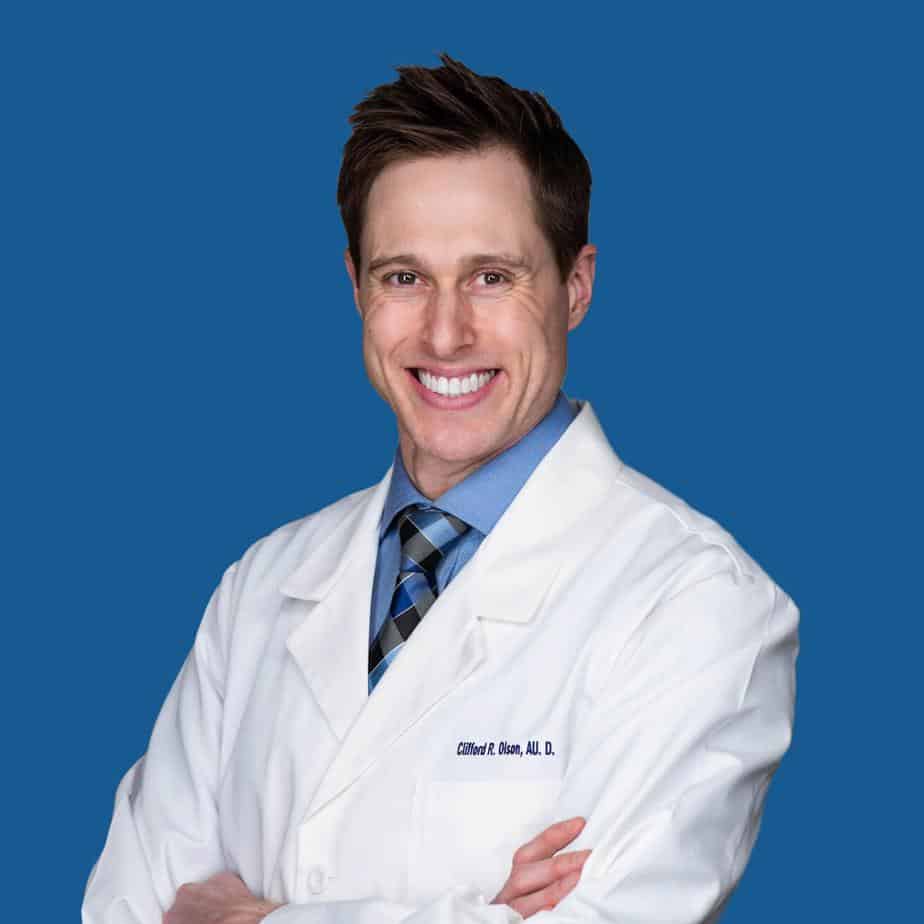 Dr. Clifford R. Olson is an Audiologist and founder of Applied Hearing Solutions and the Doctor Cliff, AuD YouTube Channel. He earned his Doctoral degree from the University of Illinois at Urbana-Champaign where he is also an adjunct lecturer for the Department of Speech & Hearing Science. Dr. Cliff is an unwavering supporter of Hearing Aid Best Practices and advocate for individuals with hearing loss, which inspired him to develop the Dr. Cliff Approved Provider Network.

Why Choose Us
With so many choices out there, you may be asking yourself why choose us. It's simple, we're unique. Unlike many other clinics in the area, we are not directly or indirectly owned by a hearing aid manufacturer. When we prescribe a hearing aid, we are making that recommendation based on your needs, not those of our stockholders. 
How are we unique?
Bernice McKenzie is the ONLY Doctor of Audiology in Amherstburg, Essex and LaSalle.

We do more than just hearing aids. All you have to do is look at the list of different healthcare providers that work at our clinics. We see babies, children and adults for their hearing. We assess and manage balance and hearing disorders (hearing loss, tinnitus, central auditory processing). We sell different types of hearing protection (electronic, music, flying, hunting, factory, sleep).

 

We are a one stop shop.
We are independent, we prescribe hearing aids from ALL the hearing aid manufacturers. Hearing aid technology is rapidly changing, and we want our patients to have the latest and greatest devices that are available. Your hearing aid needs are not the same as those of your neighbour. You will be prescribed devices based on your wants and your unique needs.

 

Although hearing aids will help you hear those soft sounds that you can not hear, we recommend that you also complete our aural rehabilitation program. This program is separate from the cost of the hearing devices, but you will notice that your ability to hear in noise will improve after completing the training. If you broke your leg, you would have no issue going to physiotherapy for rehabilitation. When you begin to lose your hearing, you really should have rehabilitation to retrain your brain to "hear" in noisy situations again. Our aural rehabilitation program is completed under the supervision of our speech language pathologist, if you have coverage for speech therapy the program may be fully or partially covered under your plan. To learn more about our program click here. We allow those who did not obtain their hearing aids from our clinic to complete our aural rehabilitation program because our job is not to sell you hearing aids, our job is to help you hear at your fullest potential.
If you are ready to treat your hearing loss and hear at your best, book an appointment to see us today!